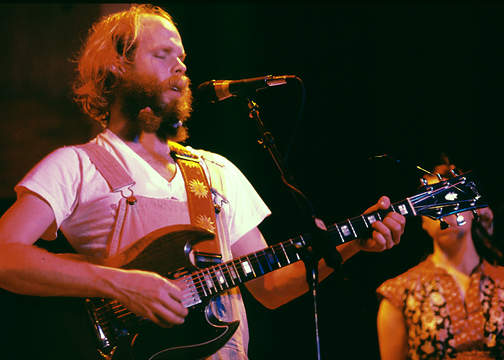 Will Oldham is the best singer/songwriter alive not named Bob Dylan. I can write that over and over again with confidence. His recordings as Palace Music (or Palace Brothers), in particular "Viva Last Blues", are Appalachian alt-country of the highest possible caliber. Since moving on to a new name, Bonnie "Prince" Billy, his stature has only grown. His initial recording under the BPB moniker, "I See A Darkness", was a masterwork. It's the sound of music that's so human, it's as though he wrote it only for you. Yet it's so haunting, it couldn't have possibly been made by a mortal man. He hasn't captured that zenith yet since, but "The Daytrotter Sessions," a four song session available for free (legally!) online, is the closest he's come yet. Every one of the songs is a classic in his catalogue. He re-records three songs from his past ("The Seedling", "The Sun Highlights the Lack in Each", and "New Partner") and one new track (which he had previously performed in shows, but never recorded) "Goodbye Dear Old Stepstone".
The new version of "The Seedling" is jaw-dropping! The tension and slight quiver in Oldham's voice gives more force to the lyrics than they ever possessed on their original spot on "The Letting Go". It's actually a great way to be introduced to Oldham's style and delivery, as it is an extraordinary example of both. "The Sun Highlights the Lack in Each" is a mellow, effective track. With the only backing as a lightly strummed guitar, Oldham again pens a beauty. It's minimalism allows Oldham's voice to take the lead. It doesn't come up short. His always exceptional ability to sound human is seen in its truest form. Close your eyes and it's as though he's singing it right in front of you in a sleazy bar, presenting you his entire soul to you in exchange for four minutes of your time. The final re-recorded track, "New Partner", is a love song as only Oldham could do it. The passion and need displayed as he cries "you were always on my mind" in the refrain (again over delicate guitar) is touching. He sings of how he now has a new partner, but yet cannot remove himself from the love of his past. When he claims he has "a new partner now", his attitude is not one of pride and happiness, but rather is bittersweet. He appreciates a new person being so involved in his life, but knows he can't give her his heart. His expression conveys this perfectly. The only completely new track, "Goodbye Dear Old Stepstone", is the most traditional folk song on the set. It could've been written by a young Bob Dylan (think "Freewheelin' Bob Dylan" era) and you'd never know the difference. He tells of how fondly he'll look back at all those who helped him along his way as he prepares to take on new adventures and new places in his life. It's the fourth consecutive perfect song.
"The Daytrotter Sessions" is a great way to introduce yourself to Oldham. Not only is it free to anyone with an internet connection, but it's also four of the finest works of his illustrious career. I couldn't recommend it highly enough to those who are either new to Oldham or longtime fans.
Rating: 9.8
...
All apologies for the lack of a "Mix of the Month" for August. I'll get back to the feature at the end of September.